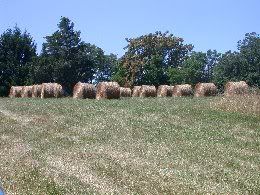 Most of the farms in the area have had pretty thin hay this year. Fortunately, Skyview hay was thick, high and bountiful. All the hay was cut, dried and rolled within a week. My buddy who cuts the hay already has the rolls sold and the money from the sale will go right back into the farm to prepare for cattle.
Not long after the hay was rolled, I found a great deal on a hay spear. Instead of moving one roll at a time with the tractor, I can now cut my work in half and move two rolls at at time. Efficiency is key when you don't have farm hands to rely on.
And tractor toys are cool.